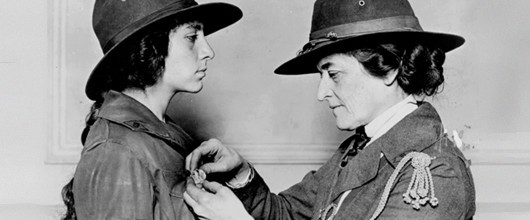 Recognition & Awards
Showing appreciation for volunteers is a must. They put in extended time for the girls and often work extra hours on top of busy schedules and hectic lives - Girl Scouting just wouldn't be the same without 'em!
Adult Recognition Resources
When and How to Recognize
Everyday little things go a long way. A card from the girls, handmade gifts, photo keepsakes – these are special ways for girls to say thank you and often times mean the most. Recognitions might be made on Girl Scout holidays, at service unit meetings, at troop meetings, at a special recognition events, immediately following services rendered, etc. When the recipient is recognized, it will make the expression of gratitude memorable.
Check out our Pinterest board for easy thank you ideas.
Formal Recognitions
Nominate a special volunteer for an adult recognition. These range from local service unit recognitions, to annual council-level and even national awards. Check out the awards criteria to determine the best fit for your special person, and then submit your nomination. It's easy—just follow the instructions!
Girl Scout Leader's Day
April 22 is Girl Scout Leader's Day and honors all the volunteers who work as leaders and mentors in partnership with girls. Girls, their families, and communities should find a special way to thank their adult Girl Scout volunteers. Appreciation can be shown on this special day and all through the year.
Browse our Pinterest board for creative thank you ideas, including a cute card that girls can give to their leader.